We only use the latest land surveying technology.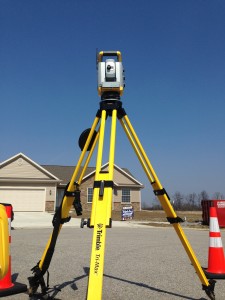 Binkley Land Surveying utilizes today's technology in the form of Trimble's R8 GPS receiver and Trimble's S6 Robotic Total Station. The Trimble R8 uses the standard GPS satellite system as well as integrating the Glonass (GNSS) Satellite System. The added satellites from the GNSS system assist in the operating capabilities of the GPS receiver and its ability to obtain information in covered areas such as in a woods. The R8 receiver also works off of the Ohio State Plane system in the form of VRS (Virtual Reference System). The Ohio VRS is a system composed of hardware and software that is designed to facilitate real-time GPS/GNSS positioning based on a set of CORS (Continuously Operating Reference Stations) as maintained by ODOT (Ohio Department of Transportation). While a properly configured R8 allows accurate positioning in the field as relating to the Ohio State Plane System the Trimble S6 Robotic Total Station is the latest in surveying technology that allows the Surveyor to conduct work as a one man crew. The S6 allows for conventional survey techniques but by utilizing the R8 with the S6 it allows for Integrated Survey Techniques. A recent case study as established by Trimble has shown that the greatest increase in productivity could be gained from using Integrated Surveying Techniques.* At Binkley Land Surveying we utilize the Integrated Survey Techniques in order to provide flexible and
efficient data collection, which in turn saves time and money for the client.
*http://initialexploration.com/uploads/IS_Technology.pdf